It is estimated that there are over a million strays in Houston. Houston Cares saves hundreds of animals from the streets of Houston each year.
Come meet some of our adoptable animals!
Every Saturday from 11am to 2pm.
5415 West Loop S
Houston, TX 77081
Fosters in attendance will vary each week.
Visit some of our available cats and kittens in The Cattery throughout the week!
5415 West Loop S
Houston, TX 77081
Potential adopters will need an approved application (available here). Trials are offered to ensure a perfect match!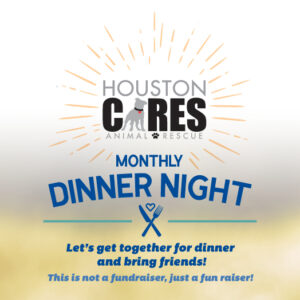 Please join us for our next social gathering!
Date: TBD
Location: TBD
For our fosters, volunteers, adopters, supporters, and anyone who is interested in learning more about our organization. Friends and family welcome!
Houston Cares Animal Rescue, formerly known as Westbury CARE, is more than just a 501c3 rescue, it's a community of animal lovers working together to make a difference for animals in Houston. What began as a small group of neighbors trying to help animals in the Westbury area quickly grew into a non-profit rescue because the need in Houston is so great. Despite its growth, Houston Cares has aimed to keep its community feel and is built on the idea that it will take a community of Houstonians to make change.
We believe change will only happen through a multi-pronged approach including rescue, education, spay/neuter, and changes to our legislation. We believe that the more the rescue community works together and supports each other, the more the animals benefit and the more change will be seen. We are proud to be a small and growing part of the Houston rescue community. Beyond our foster and adoption program, we have other active rescue efforts. We have a Trap-Neuter-Return (TNR) program helping to address feral cat colonies in SW Houston. We also speak to schools and other groups about rescue and are hoping to grow our outreach program.
Houston Cares is 100% volunteers, foster-based, and supported by private donations.
While waiting to find their forever homes, animals live in loving
FOSTER

homes. Open your home and help us save lives - at no cost to you!
Fosters are responsible for providing a safe and loving indoor home to the animal, allowing them to adjust to life off the streets and sometimes helping them learn to trust again. We provide all supplies and full vet care, and if needed, behavioral training. Every day we are asked to help new animals, but have to turn many of them away due to lack of foster homes. When you agree to foster, we can save more animals who are waiting for their chance at a new life filled with hope and love.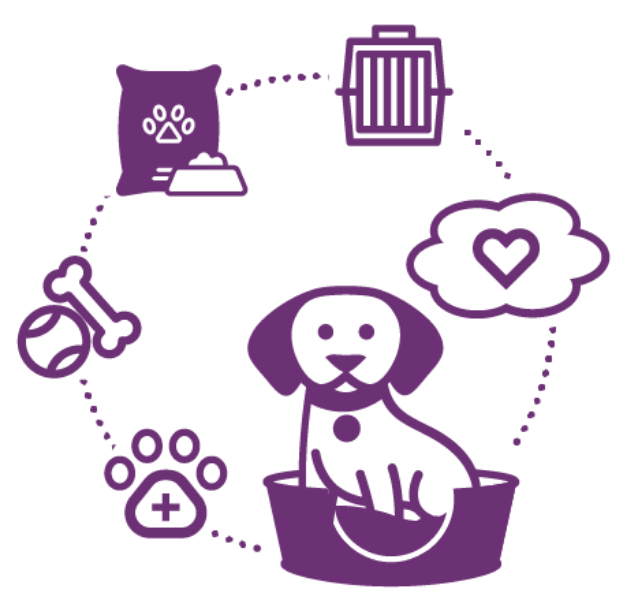 Everyone involved with Houston Cares is a
VOLUNTEER

.
There are many ways to help!
Although the amount of need can be overwhelming, we give our free time to this cause because we believe that together we can make a difference. We know that every animal saved from the streets has their life completely changed through our efforts and we believe that our efforts have the potential to change the future on a much larger scale over time. We invite everyone to join our community of animal lovers and work alongside us to make change in our Houston community.
All
DONATIONS

received go directly to save animals in need.
The cost of care for each animal usually well exceeds their adoption fee; because of this, money is raised through fundraisers, donations, and sponsorship.